Feb. 3, 2021 - As the Church continues in ordinary time, it can feel - well, 'just ordinary.' Sometimes our married lives can feel ordinary and that might cause us to feel down or defeated, feeling like maybe we should be doing something more - more extraordinary?
A quote often attributed to English author G.K. Chesterton is
"The most extraordinary thing in the world is an ordinary man and an ordinary woman and their ordinary children."
The sentiment is unquestionably Chestertonian in nature.

It is also "Wojtyłan" in nature! The Rule gives us a vision of the extraordinary vocation that marriage is! This extraordinary vocation is lived out through the very ordinary realness of everyday life. The main purpose of the Rule (found in point #4) is to develop a spirituality so that the whole of marriage may be infused with Christ's giving Himself up in love for His bride.
So, let us rejoice in the ordinary! Let us make the most of the "Ordinary Time" in the Church and in our lives. Let us embrace the seemingly mundane, little responsibilities our life requires of us, so that we might be open to the Holy Spirit bringing God's great love into those very small, ordinary moments ... And in doing so, we are a little bit closer to the extraordinary character of our vocation of marriage!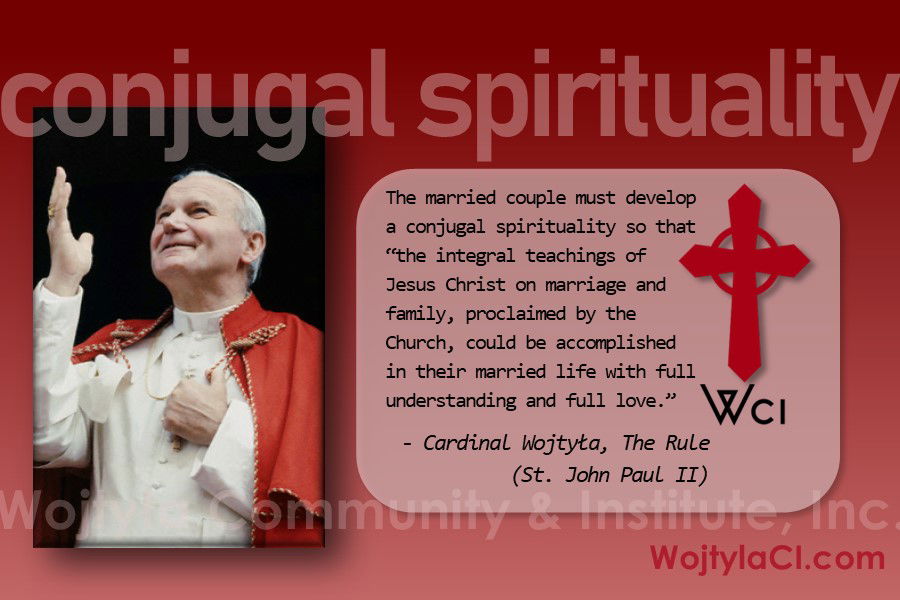 Did you know?
St. John Paul II called you "the action of God" in your spouse's life?
You and your spouse have a unique union in grace and united together, you have a special relationship with God (this is your Conjugal Spirituality).
If you pray for a deeper openness to the grace of the Sacrament of Marriage, God will guide you to see where you need to let go more.
We challenge you now to dive in deep, daily, with this prayer! God has a plan for your marriage greater than you can ever imagine! Get ready to fall in love all over again and with a love that resonates in the life of the Blessed Trinity!
---
We continue to move forward in our Married Couple Group and ask for your continued prayers. We have received amazing feedback and are fine-tuning our materials to make WCI Married Couple Groups of the future successful and authentic to The Rule of St. John Paul II!

We are praying for you!
God bless you,
the WCI Leadership Team