Sept 15, 2020 - We are so excited to share with you that the WCI is now an official 501(c)(3) nonprofit organization! There was so much paperwork that went into the preparation and application of this step, and it is a GREAT relief (& a slight miracle!) to be officially approved!

God is so good! We also received our first mailed-in check donation on the SAME DAY! How blessed we are that God continues to provide for us and open the doors as we need them! Truly He loves each of us (and each of you!) so much - what JOY this brings!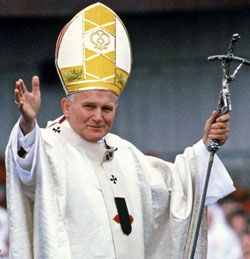 Did you know?
The Rule of Cardinal Wojtyła never "took off" in Poland when he first presented it.
As one man recalled, the couples preferred to continue on with their community on more of a private level rather than formalize it into an official movement. He recollects, "At that time Wujek (meaning "uncle" – their nickname for Fr. Wojtyła) proposed the model of a French family movement (through The Rule). That idea, however, didn't catch. Why didn't we care about a training movement? Maybe we thought that the same contact with Wujek would "fix" everything?"
They did not feel they needed anything formal, because they had this holy man in their lives. As the one who brought to light these re-discovered texts, Fr. Kwiatkowski explains, "the conciseness and brevity of the text, as well as the somewhat complex history of the same initiative, have made it practically unknown." And so, it has stayed, until now.
_______________________________________________________
We are so blessed by the community of support building within the WCI now and thank you for your continued patience as we set all systems in place!
If you would like more information, please email us at info@wojtylaci.com and we will put you on the list to receive an info packet just as soon as we get them back from the printers!

We are praying for you and ask your prayers and support as well!
God is working in AMAZING ways! All glory and honor to Him!!
God bless you!
---