by: Kevin Stacy, Executive Assistant
E...W...T...N... These four letters have been familiar to me since I entered the Church in 2015. The Eternal Word Television Network, founded by Mother Angelica in 1981, is a household name for Catholics in America and much of the world. I remember learning from Fr. Mitch Pacwa on Scripture and Tradition and hearing stories of conversion on The Journey Home. And now here I was, one hour away from stepping foot inside the studio , inside a movement started by a feisty nun with a love for God and his Church.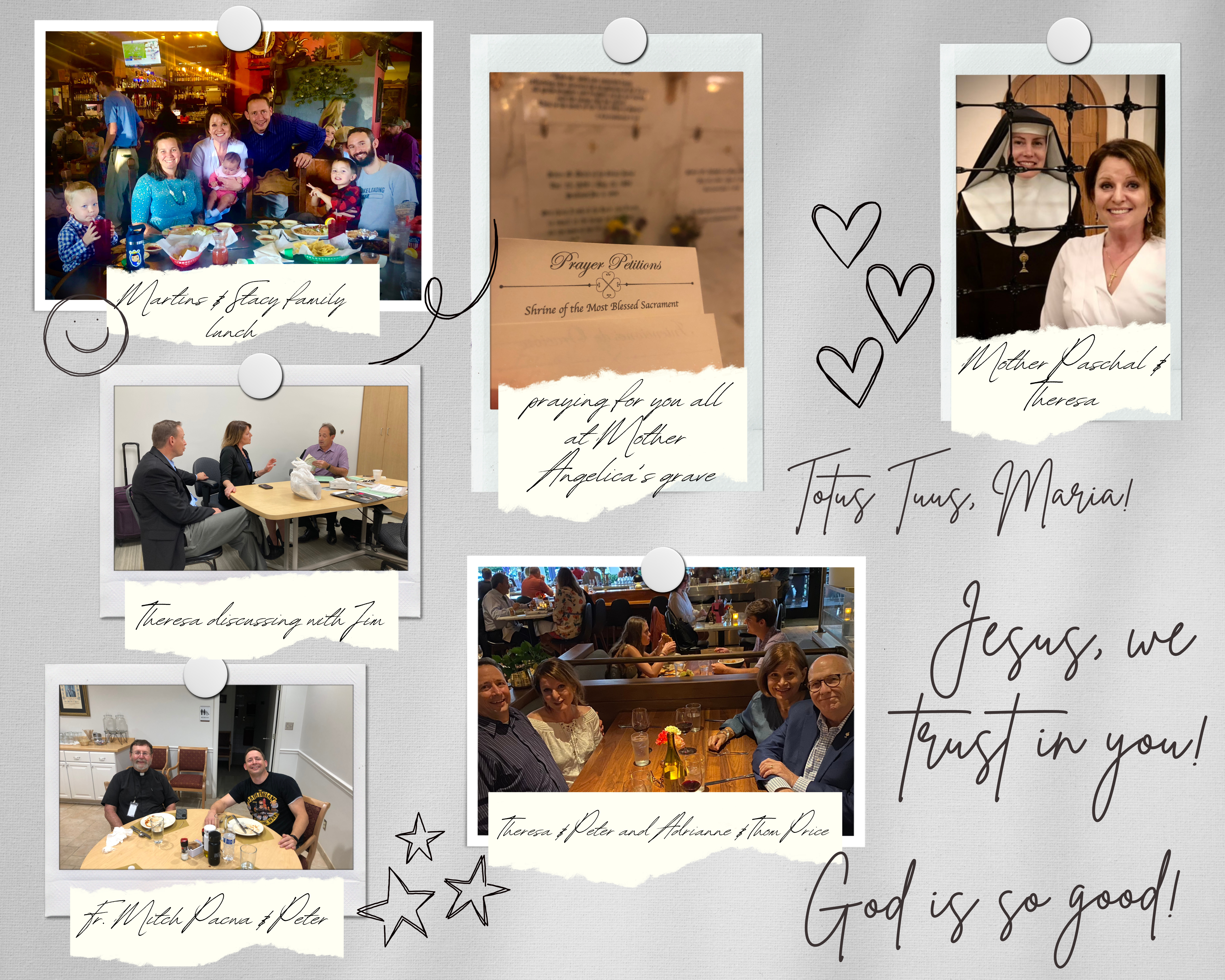 Here I was, unworthy me, to be given a chance to be a part of another movement inspired by the Holy Spirit. A movement born of a love for God, his Church, and a mission to restore marriage to its rightful place in the world. It was this day that Theresa and Peter Martin, founders of the Wojtyla Community and Institute, and co-authors of The Rule would, by Divine providence, be given an opportunity to spread The Rule across these airwaves and broadcast this mission, this movement to the world.

As I sat in the green room observing the dialogue between the Martins and Jim and Joy Pinto, I could not help but be taken aback by how ordinary, yet profound, the conversation unfolding before me was. The calm confidence of Theresa and Peter reminded me of our lunch meeting the day prior as our families met for the first time. The warmth and compassion of Theresa and Peter made us feel at ease. It was as if something was different about them. Perhaps it was a reflection of the strength of their one interior life spilling over into our individualistic society. Or it was the tasty Mexican food we enjoyed. My guess is that it was the former. As I sat there in the green room watching Theresa and Peter explain The Rule to Jim, his demeanor and questions told a story of their own. I could tell Jim knew he held in his hands a diamond, a hidden treasure forgotten by the passage of time, and now here it was, being introduced to the world.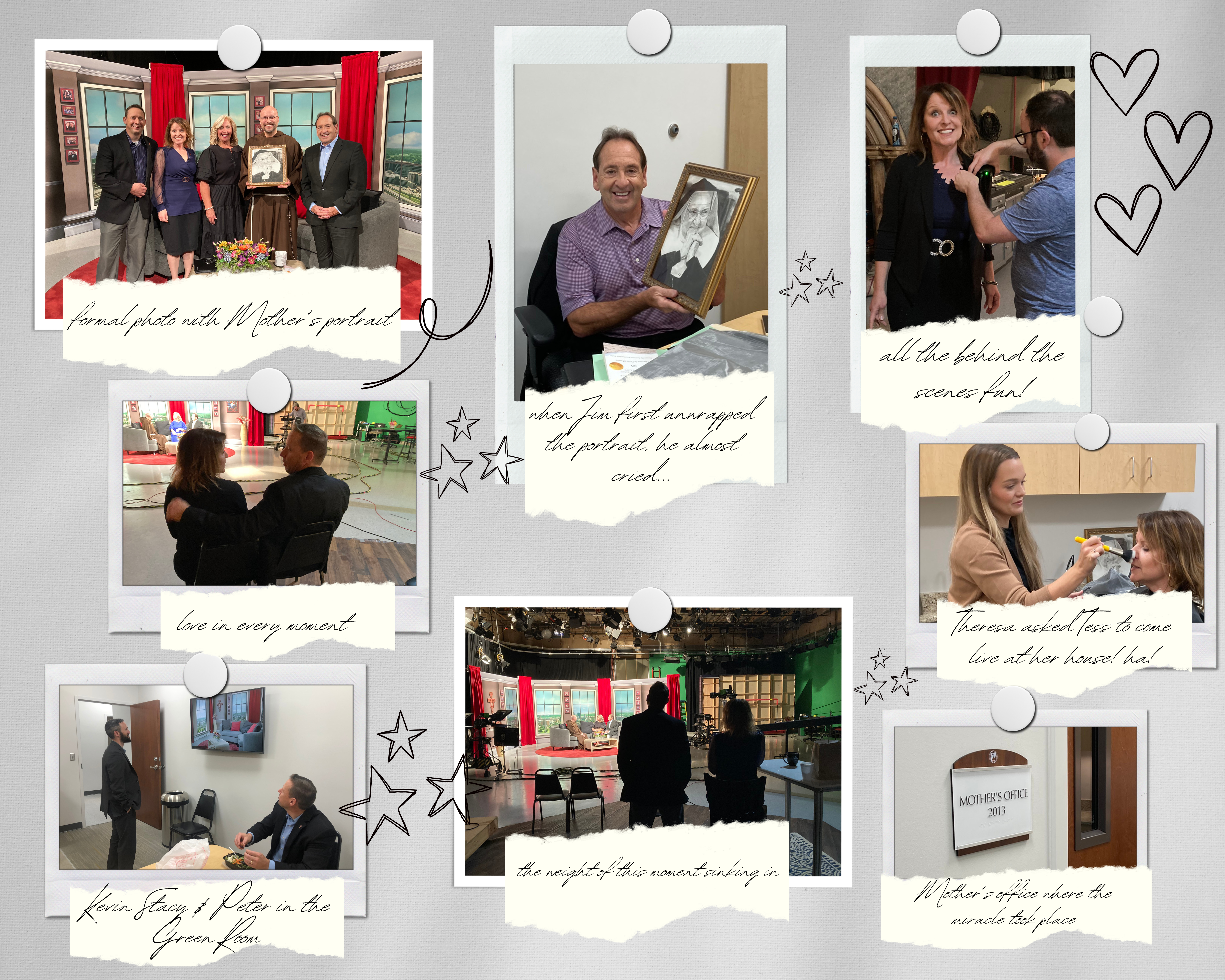 As Theresa, Peter, and I waited for filming to begin, I recalled something Jim had said which became a personal moment of joy. Jim pointed out that Mother Angelica was healed right next door to where I was sitting. The miracle happened mere feet from where we were all sitting. I could not help but get up to see this office where God worked such a beautiful miracle for his feisty nun. As I stood at the door to that office, I wondered if I was witnessing another miracle unfold before my eyes. A miracle to bring conjugal spirituality to its rightful place. One of the biggest highlights of the day was a gift from Peter & Theresa to Jim and Joy, a beautiful charcoal portrait of Mother Angelica by their son, Louis François. This gift quickly became a focal point of attention as we all stared into Mother's warm smile. Jim and Joy couldn't help but share this gift with Fr. John Paul and anyone else who heard of this beautiful work of art. As I sat in the studio prayerfully observing Jim and Joy listen to Theresa and Peter speak of the vision of Saint John Paul II and of this concept of conjugal spirituality, I could not help but envision a renewed sense of awareness for the Sacrament of Matrimony in America and beyond. While I was not there when Theresa first gave her fiat to the Lord, accepting this mission, I was there to witness these and many other special moments at the EWTN Studios as Theresa and Peter once again, in true union of husband and wife, both gave their fiat to that moment, to The Rule, and to the moving of the Holy Spirit.
WATCH THE EPISODES HERE!